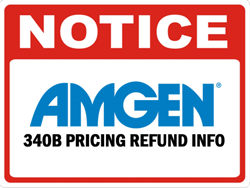 In February, HRSA posted a manufacturer refund notice for 340B covered entities to its website regarding Amgen USA, Inc. (Amgen) and 340B pricing for multiple products using NDC labeler codes 55513 and 58406. This includes Aranesp, Sensipar, Epogen, Neulasta, Neupogen, NPlate, Prolia, Vectibix and Enbrel. According to the notice, Amgen has made an adjustment to the 340B ceiling prices for the aforementioned National Drug Codes (NDCs) and as a result, a 340B covered entity may be eligible for a credit. Please see the manufacturer notice HERE for eligible NDCs and drug purchase timeframes as they include multiple products and timeframes ranging from Q4 2006 to Q1 2015.
Currently under the 340B statute, manufacturers that participate in Medicaid must enter into a Pharmaceutical Pricing Agreement (PPA) affirming they will not charge above the 340B ceiling price when selling covered outpatient drugs to 340B covered entities.
Please note that the proposed rule for 340B Drug Pricing Program Ceiling Price and Manufacturer Civil Monetary Penalties Regulation was published in the Federal Register in June of 2015 and the comment period closed in August 2015. This proposed rule will require drug manufacturers to calculate 340B ceiling prices for each covered outpatient drug by National Drug Code (NDC) on a quarterly basis. In addition, it also applies a system of civil monetary penalties for drug manufacturers with a PPA that knowingly and intentionally charge a covered entity more than the ceiling price for a covered outpatient drug. A drug manufacturer may be fined up to $5,000 for each instance of overcharging the covered entity. The fine will be in addition to repayment for an instance of overcharging.
The notice goes on to say that "340B covered entities that purchased the Amgen products...will receive a credit effectuated by Apexus, LLC within the next three to four months, as well as a letter about the change in price." 340B covered entities who have questions should email 340BRelations@amgen.com.